40 Days of Reflection
Lent is a season of 40 days that we take to reflect through devotion and trial reminding us of the significance 40 years of wandering in the desert by the Israelites and Christ Jesus' 40 days of fasting and prayer in the desert impacted their lives and ministries.
Join us each Sunday in Lent at 10:00 am for worship online and in-person.
A Lenten Journey Devotionals
Journey through the full 40 days of Lent with your family as we share both Children and Adult devotionals with you below.
Click to download the full devotionals and follow along during Pastor Jennifer's smallTALKs in worship as well as stop by the prayers walls in the hallways at Calvary when you attend in-person worship.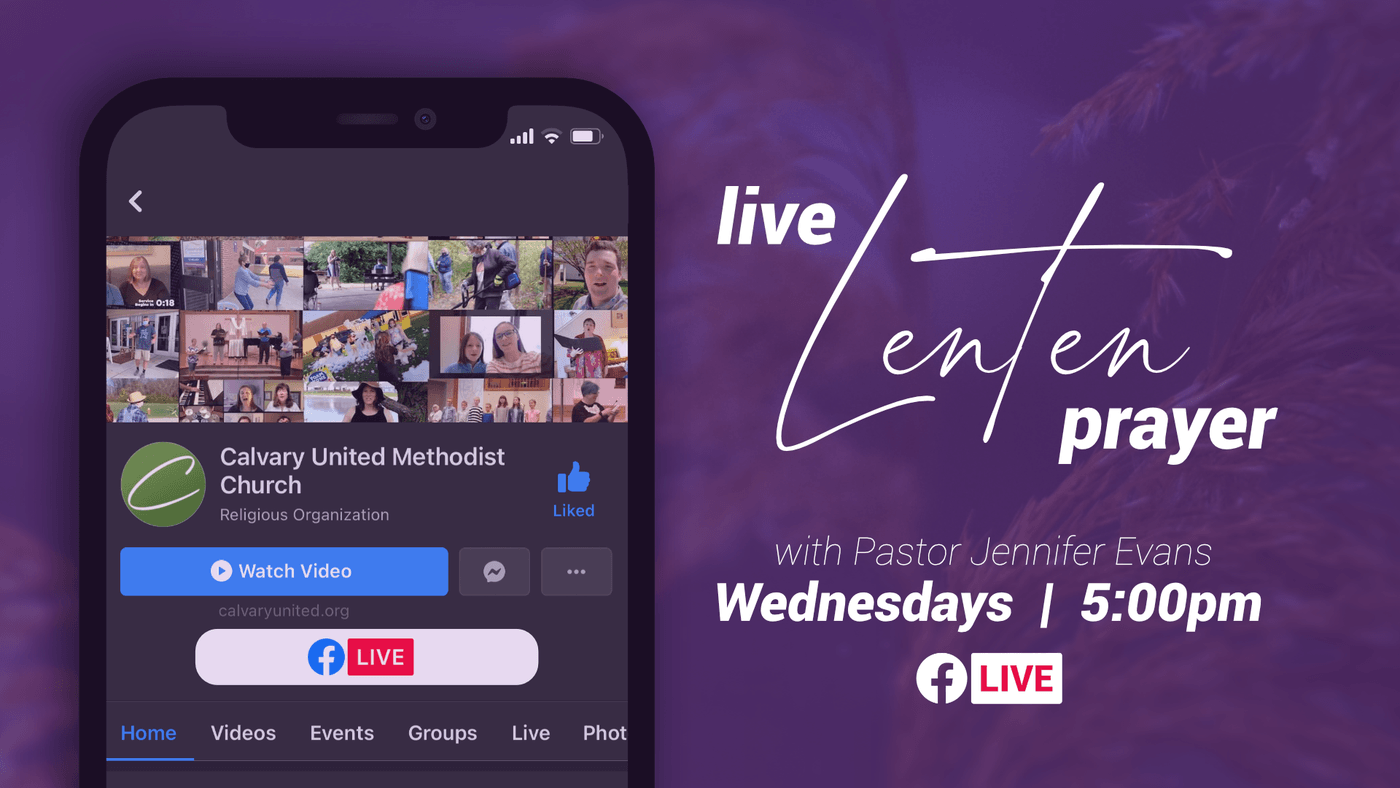 LIVE Lenten Prayer with Pastor Jennifer Evans
Make every Wednesday, Ash Wednesday by joining Pastor Jennifer Wednesdays at 5:00 pm on Facebook Live for a time of focused prayer. Each week, live participants may share prayer requests, discuss weekly Lenten prayer activities and share a time of community prayer.
So whether you are stuck in traffic and can tune in live from your mobile phone, or are cooking dinner and tune in from your tablet or pull up Live Lenten Prayer from the comfort of your couch at the end of a long day, you can share in prayer with Pastor Jennifer and the Calvary community.
Dismantling Racism: Lent devotions by our UMC bishops
The Council of Bishops invites the people of The United Methodist Church to a season of introspection and self-examination. Together this Lent, we will confess and fast from the sin of racism, discrimination, oppression and exclusion and feast on the beauty and blessing of the diversity of God's Church.
Each week of Lent and every day of Holy Week, a United Methodist Bishop will offer a short devotion. These times of reflection will challenge and inspire us to follow Jesus through the wilderness, alienation, betrayal and even death. Along the way, we will confront the sin of racism, renew our faith, and remember the promise of Easter—that redemption, reconciliation and liberation is possible.
In 2020, the Council of Bishops of The United Methodist Church vowed to focus intently on dismantling racism in the church and the world. This Lenten devotional series is another step in the journey of repentance, reconciliation and action in which we invite the whole church to participate.

Ash Wednesday Drive-Thru, February 17, 6:30pm
Join us on the Calvary UMC campus for Ash Wednesday Drive-Thru. Pastors Todd Outcalt and Jennifer Evans will lead prayer and the imposition of ashes on each who join us.
Miss Ash Wednesday, but still want your ashes? Ashes will be given to those attending In-Person Worship on February 21st.