End Racism in our Community and World
Participate in, learn from or join a ZOOM discussion group as the people of the United Methodist Church in our nation and here at Calvary United Methodist strive to end racism in our communities and world.
Pray, connect, show up, act as United Methodists stand against racism.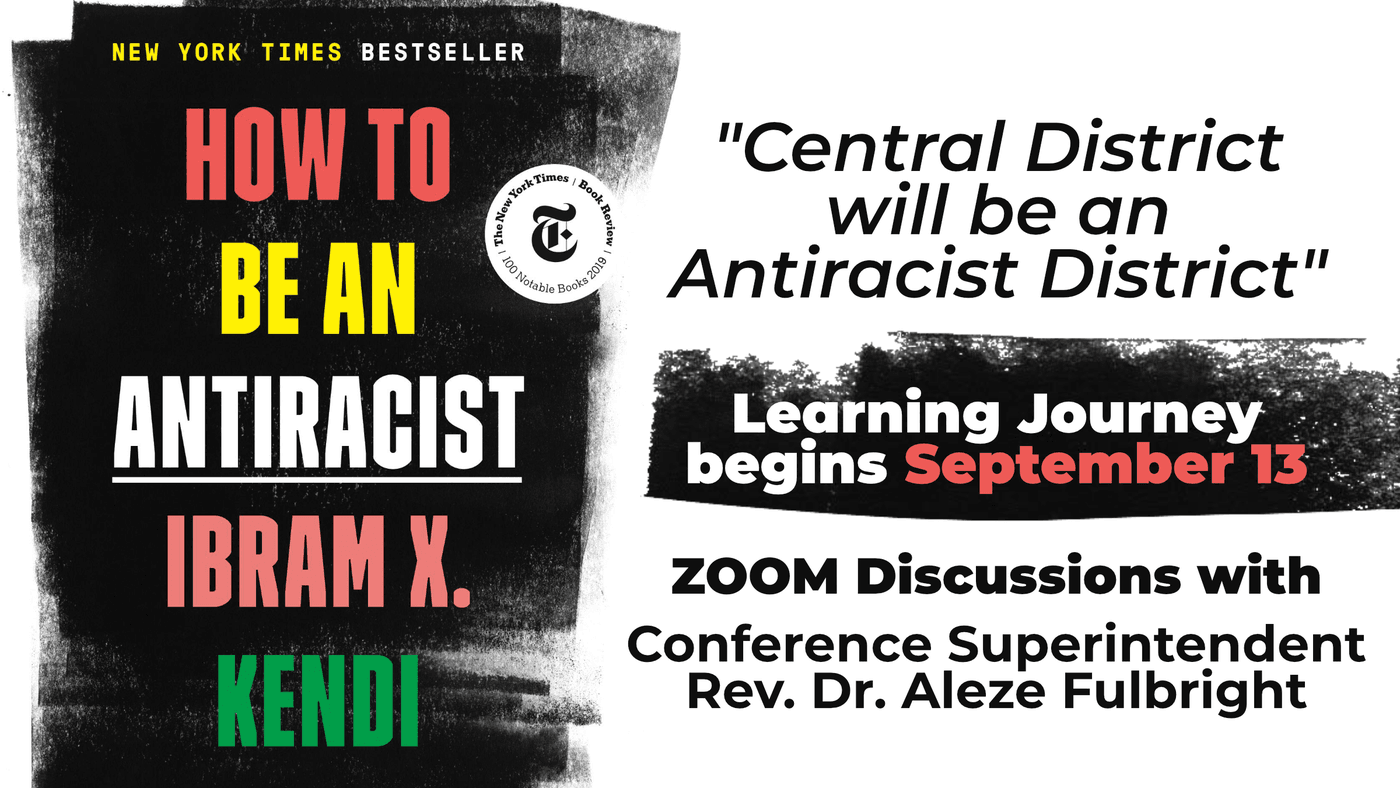 Central District will be an Antiracist District
Begins September 13, 6:00 - 7:30 pm
SIGN UP BELOW!
For some that is a strong statement and you may have discounted the efforts. To declare that the Central District (Christ-Centered, Community-Connected, and Missionally-Centric) will be an ANTIRACIST DISTRICT simply means that we will be on a learning journey from September through November to "see all cultures in all their differences as on the same level, as equals."
Conference Superintendent Rev. Dr. Aleze Fulbright (watch an invitation from Rev. Dr. Aleze Fulbright here) will lead the book study of How to Be An Antiracist by Dr. Ibram X. Kendi in ZOOM discussions beginning September 13 from 6:00-7:30 pm.
Click Here to Access the ZOOM meeting.
All discussions will be held from 6:00 -7:30 pm. The schedule is as follows:
September 13: Chapters 1 & 2
September 20: Chapters 3 & 4
September 27: Chapters 5 & 6
October 4: Chapters 7 & 8
October 11: Chapters 9 & 10
October 18: Chapters 11 & 12
(changes to Mondays in November)
November 2: Chapters 13 & 14
November 9: Chapters 15 & 16
November 23: Chapters 17
Dismantling Racism: Pressing on to Freedom
Town Hall: Seasoned & Emerging Leaders Discuss Dismantling Racism
(previously aired) August 19 & 26, 1:00 pm
The work of dismantling racism is not new; now more than ever we need to be reminded of the work that has moved us to today's reality—and to name where we still need to go. In this current season, rising leaders are studying the leadership of those who came before and adding their energy to the ongoing work of dismantling racism.
North Central Jurisdiction College of Bishops Commitment to Antiracism
posted June 12, 2020
For Christ is our peace… he has broken down the dividing wall, that is, the hostility between us.
-Ephesians 2:14
The killing of George Floyd at the hands of police officers in Minneapolis, Minnesota on May 25 has rocked our nation and world and pierced us to the core. The video image seared into our minds, hearts and souls is horrific, terrifying, disgusting and outrageous. While we've each made commitments and statements in our respective areas along with many of our cabinet members, we think it important to speak together as the North Central Jurisdiction College of Bishops. We affirm the work being done in each of our conferences, the work of the Council of Bishops, the work of our General Agencies, and the work of our ecumenical and interfaith partners in responding to this heartbreaking, soul-shattering event.
Civil Rights in America with the Indiana UMC Conference Education Tour
January 14-18, 2021
Traveling to Birmingham, Selma, and Montgomery. The group will visit the National Memorial for Peace and Justice Lynching Memorial, Rosa Parks Museum, Edmund Pettus Bridge, 16th Street Baptist Church, and the Freedom Riders National Monument. This trip is open to all laity, clergy, and those who are curious. This experience is open to all age levels, as long as they are able to fully engage in the tour that does not disrupt another's opportunity. The price for the trip is going to be $898.00; which includes the hotels, bus, breakfast and lunch, and the love offering for the driver is also included in the price.