March 7, 2020
Latest COVID-19 Update from the Calvary Pastors
Hello Calvary Friends!
I hope everyone is continuing to navigate the ongoing challenges related to the COVID-19 pandemic with patience and fortitude. And I know we are all anxious to get back to some sense of "normalcy," whenever, and even if, that is possible.
Many are also wondering: when we will be able to return to worship in the Calvary building, and what will worship look like in the new realities?
While I do not have specific answers or a start date at this point, I believe it is prudent we take a cautious approach. Our bishop, Julius Trimble, has asked that congregations not consider a return to worship on site until after June 14—and the Calvary staff and I concur that this is a wise and healthy course. Please keep in mind that, while care of souls is our pivotal focus, we will be both safe and responsible when it comes to the elderly, the sick, and the most vulnerable among us, and we do not want to compromise anyone's health.
When we do return to worship (hopefully in later June at best) we will likely be adhering to our current social distancing guidelines and will plan to return when everyone can feel safe being under one roof.
In the meantime, I encourage you to live in the fruits of the Spirit—especially patience and peace. Resilience and continued prayer will also be required, as well as everyone's strong support with time, talent and treasure. Please continue to participate in online worship and give your best through the Calvary website (calvaryunited.org) or the Givelify app or the mail (575 W. Northfield Dr, 46112). If you have prayer concerns, or would like to see your pastors, you may drive by and post a prayer concern on the prayer wall under the front canopy of the church, and also drive by for prayer on Thursdays at 7:00 pm Small groups and classes can continue to meet via Zoom and other online mediums
Let us continue to be vigilant. Watch for updates on the Calvary website and the Facebook page, as well as emails and mailings. All things will happen in God's time and through our best practices as the Body of Christ. In the meantime, I continue to work and pray and let us all press forward in faith until we can once again safely gather for worship in our facility.
Blessings, Pastor Todd
April 17, 2020
Dear Friends,
I know we are all anxious to see the social distancing guidelines and safety procedures lifted so we can gather for worship--and our governor has recently shared his hope that we may see some of these guidelines being lifted in early May.
Toward that end, please continue to watch for an announcement(s) regarding our return to worship in the Calvary sanctuary. This could take place in early to mid May, but we will want to make sure that our Calvary sanctuary and our entrances/exits and procedures are in place to ensure that everyone can maintain a safe distance throughout the morning, mask appropriately, and otherwise come and go and participate in worship at a safe distance from others. We will get there--but continue to watch for updates! A return date will be named later once we have more clarity on these matters.
In the meantime, don't forget that our worship and other forms of communication and videos are here on our Calvary website and on the Calvary facebook page. New videos, blogs and other communiques will continue to be released throughout the week. And once we return to worship, we will have much to communicate and celebrate!
Please know that I continue to pray for our Calvary family and I continue to thank you for remembering God's ongoing work and our online presence in your prayers and financial gifts. We have done great work in our community through these days with gifts of food, volunteerism, communication and prayer. To God be the glory!
Blessings, Pastor Todd
Worship Online Premieres Each Sunday at 9:00 am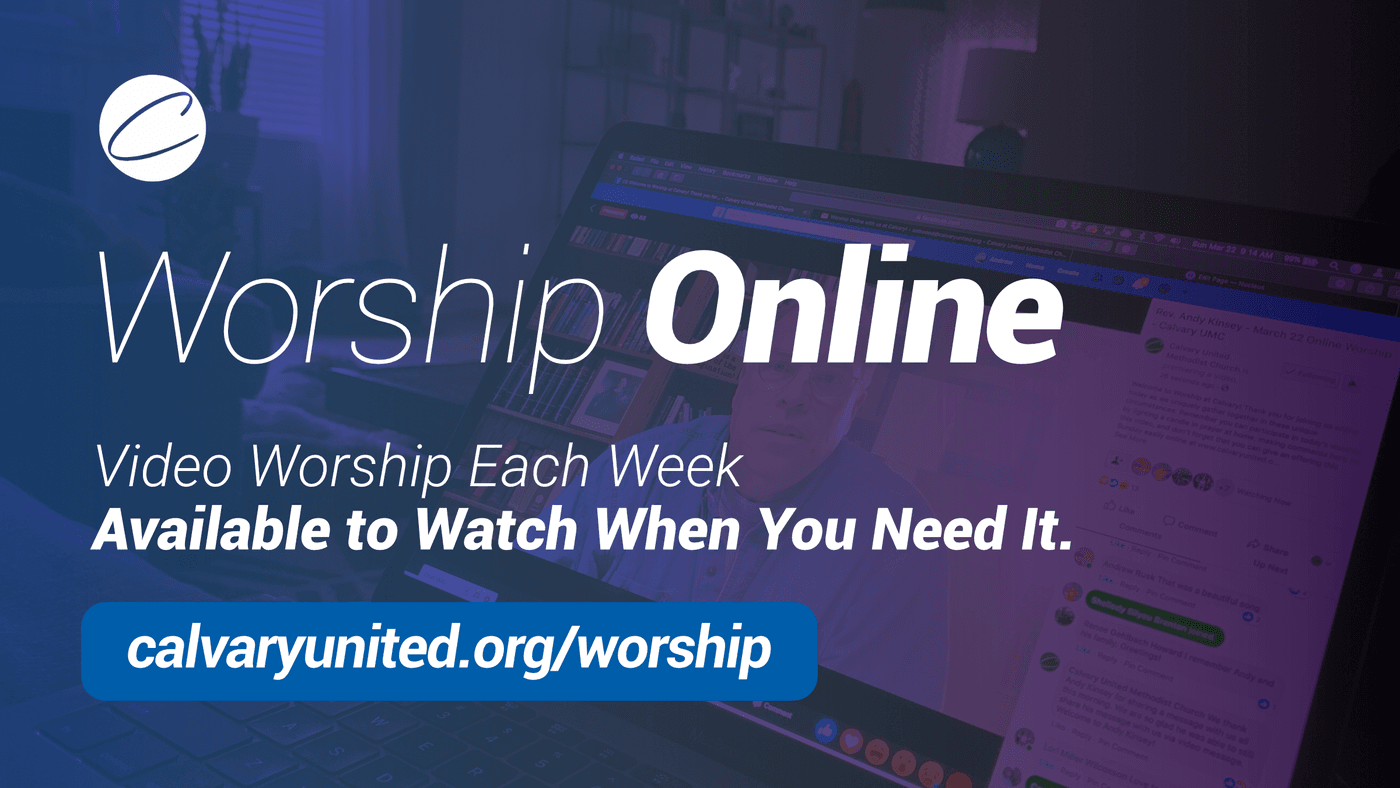 March 18, 2020
Our world is facing an unprecedented health crisis. And in order to keep everyone informed and up to date, Calvary United Methodist Church has taken the following steps to protect the health of our staff, congregation and community.
In order to reduce the risk of potential exposure, the Calvary facility and offices are now closed until further notice. We are suspending regular office hours and practicing safe physical distancing, as recommended by public health officials, Governor Eric Holcomb, and our church leadership. All of our Calvary staff will now be working remotely from their homes until further notice.
You may continue to reach Pastor Todd Outcalt at toutcalt@calvaryunited.org (317-654-2241) or Pastor Jennifer Evans at jevans@calvaryunited.org (317-445-7872).
Financial gifts are certainly needed and may be given here on the Calvary website, through the Givelify app, or by mail (Calvary UMC, 575 W Northfield Dr. Brownsburg, 46112).
Worship services will be posted every Sunday on the Calvary website, Worship Online and on the Calvary Facebook page, and there will also be daily and weekly videos from the pastors and staff on the Calvary Facebook page and the pastors' personal Facebook pages. Continued updates may also be provided through all church email, mailings, and here on the Calvary website.